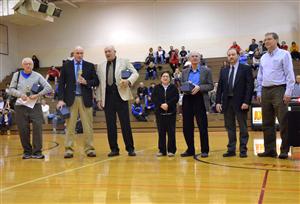 Congratulations to the 2016 Antietam School District Hall of Fame Inductees!
(Pictured left to right: Mr. Charles Snyder, accepting for his son, LTC James L. Snyder, HOF Inductee; Mr. Tom Sload, HOF Inductee; Mr. Daniel Lorah, HOF Inductee; Mr. and Mrs. Michael Pardo, accepting for their son, Daniel Pardo, HOF Inductee. Also in this picture: Mr. Michael Gierula, Board Member and Mr. David Stauffer, Board President)
Our public school district is comprised of the Mt. Penn Borough and the Lower Alsace Township, just over Mt. Penn from Reading, Pennsylvania.